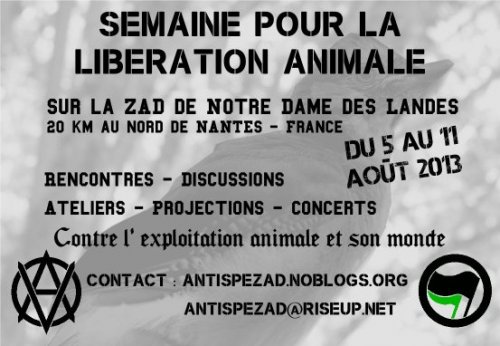 At the ZAD of Notre Dame des Landes (20km north of Nantes - France)
5th till the 11th August 2013
Workshops - Screening - Concerts- Gatherings- Discussions
Against animal exploitation and its world
Contact : antispezad.noblogs.org ; antispezad@riseup.net
All around the world, every day, billions of non-human animals from every species suffer and die to fulfill the needs of humanity. This is what we call animal exploitation.
Modern capitalism has mastered this exploitation and the sufferings it generates on a scale never reached before, through production of meat, milk, eggs, leather and honey, experimentation on animals in laboratories, or the complete destruction of ecosystems and their inhabitants. All these exploitations are used to increase the profits of the governing classes, and at the same time, to maintain the lifestyle of a large part of the global population, especially in our rich countries, which depend on animal products.
However, it is rare, even in anarchists and anticapitalist movements, that animal oppression is questioned and discussed. We, as a group of anti-capitalists and anti-authoritarian individuals, are nevertheless convinced that human emancipation makes no sense if it is not accompanied with the emancipation of all living beings. We do not think that non-human animals are inferior, nor that it is right to make them suffer, for whatever reason. In the same way that we struggle to try to finish with capitalist, sexist, racist and other systems of domination, we want to fight to give animals a chance to live their lives without murder, imprisonment or torture.
Thus we don´t think that the solution is to reform the exploitative system to make it more supportable. We do not want bigger cages for the chickens in battery farms, but the abolishment of the cages and the factory that goes with them. In our eyes animal liberation is an ethical necessity that no ´reasonable´ farming of livestock will manage to put in place. However we do not have ready made solutions : veganism on an individual level, which means not consuming any products that come from the exploitation of animals, is clearly not by itself a solution to a global problem.
Several of us live and struggle on the zad, area of struggle against an airport but also against the capitalist world which it represents. Here millions of animals are under threat of disappearing under concrete, but right now there are already thousands of livestock animals who live here imprisoned, often before being put to death sooner or later. Lots of the people who participate in this exploitation are nevertheless habitants who fight against the same enemy as us, most of them since much longer than us. All these things make the struggle against the exploitation of animals even more of an actuality here than many other places, but equally they make this struggle difficult to carry out at the centre of a movement which has a large part who refuse to consider animal exploitation as a domination to be abolished. We think thus that there is a lot to build here on this subject, in a struggle which seems to have opened a doorway in France towards discussion of the question of animals and nature.
That's why between the 5 and 11 august we are inviting to the zad everybody who is interested in animal liberation and identifies themselves with antiauthoritarian principles. We would like to create within this week a meeting space for people involved in or desiring to get involved in the struggle for animal liberation on a radical basis, as well as a space for debate about the exploitation of animals in general and at the centre of social struggles, on the ZAD and elsewhere.
More info on: antispezad.noblogs.org