FestiDemoZAD on the 4th, 5th and the 6th of January 2013
Pré-Scriptum from the translator : As the Flash Infos in French are written by non-French speakers, translations in English are not made by English speakers. ZAD's the way, ZAD's the ZAD spirit ! Please be comprehensive.
FestiDemoZAD !
Partying demonstration in support of the ZAD on the 4th, 5th and 6th of January 2013
Bashing all Ayrault, Vinci and others managers of our life : Have ZAD in your face !!
Stalls of information about struggles, Reduced-risks space... Covert and heated concert scene, Tekno scene, Reggae scene, Chill-Outs... Toys, exhibits, theater, street arts, juggling, graffiti, pyrotechnics, performances...
Food and entrance for donation... Coz' the struggle cannot be sold or bought !! Gathered funds will be used to finance the struggle against Vinci's Ayrault-port and its world. You can also bring concrete donations. A list is foundable on zad.nadir.org website.
We invite again every struggle to come and inform the public by animating a stall. It is also possible to give speeches on the scene between concerts. We would be really pleased that some collectives could appropriate this space for themselves. Please contact us.
We are looking for self-managed collective kitchens/cooking places and aside some mobile structures such as marquees and barnums and some spare big section electric wire (16 or 20mm² minimum).
Every individual initiatives are welcome (sound systems, shows, street arts, performances, decorations, exhibitions, non commercial stalls...) and in case of "off scene" installation, please contact us before in order to get information of the most suitable places for it.
Contact : festizad @ riseup.net
Poster :
http://demo.ovh.net/fr/d19fc3ae3e2a4b85a91c864a0800a692/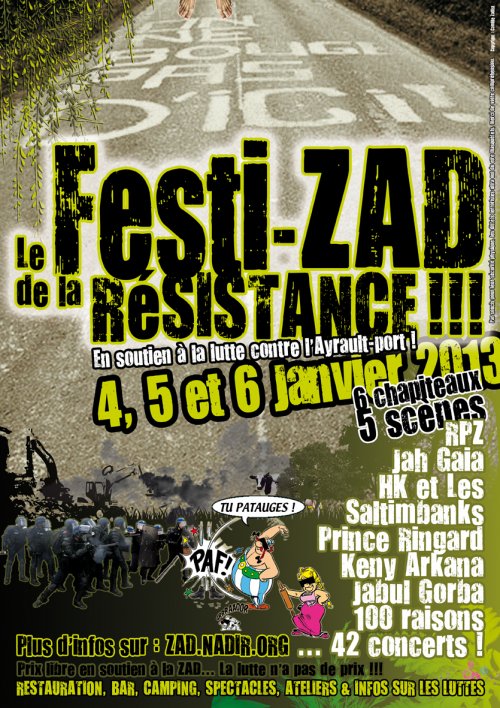 Make our will party ! (difficult-to-translate pun in French)
During three days, we propose to everyone to express our rage - in a partying mood - against all those who decide things about our future so far from us. Against all those who, for their own interest, are ready to destroy thousands of square kilometers of our most precious patrimony. The world of this airport is a world of wars, poverty and misery, aleniation of populations and destruction of the environment. A world of boredom, a world of death ! If there is precisely something against which Free Partying can fight, this thing is boredom. In its mental, police, civilized, forced or consumed shape, it doesn't matter. Free Partying and Radical Struggle are melting together in a creative gush that spread the weeds of subversion. Free Partying is life. And life isn't this airport !
We will not wait for tomorrow to live ! The Great Day of the Revolution is today, tomorrow and the day after. Today, we put the loudspeakers outside and we party. Of course, we're not gonna make a conditioned, standardised, priced, monetized party. A festival isn't political. A party turns to be a political act as soon as everyone become an actress of it, when the occupied space is self-governed, is a space of sharing, creation and tolerance. What is exprimented here and now is useful to conceive the daily tomorrow. In a Zone of Partying Action, we are autonomous, we simply rely on ourselves. A Free Party is non-hierarchical. Whether you are organizing it or simply passing by, we are all at home. The achievement of our actions is the result of our own common effort. "Creating is resisting, resisting is creating! "
Free Partying, temporary, sometimes breaks the path of History, of a project. It can be perishable but it makes ideas and desires grow and move whereas they were unknown before... And they often remain and survive much longer then. Those who speaks of revolution and struggle without understanding what is subversive in a Partying Demonstration, what is positive in the refusal of dogmas, constraints and walls, those have a corpse in their mouth. But let's forget them and leave them their illusions to those who prentend to possess and control everything. They can be red or grey, green, pink, blue or even black, they have always deceived us ! Let's not be accomplices of our own submission to their pseudo-democratical societies, or even pseudo-libertarian societies and all their ways of thinking. We chose already. Those who are guilty won't be Ayrault, Vinci and so on. Those who are guilty will be all those who didn't revolt against the airport and this unfair and destroying world. There is no bad system, only a sum of individual cowardices.
Absolute freedom offends, confuses. Some prefers to invoke illness, demoralization or deviance to legitimate one's oppression. Those who judge us is not born in the spirit, this spirit of freedom we try to tell and that is, to us, much further than what you can call freedom. Beware of your logics, Sirs or Madams, you don't know where our hatred towards logic can bring us. We must fight right now to concretely make the dynamic order of tomorrow appear. Active reactionnary forces in this country will never let a true dissent develop outside what they conscientiously organized themselves before, although they probably would tell the opposite. Unfair orders exist : will we be satisfied to abide by the law, will we try to make it a bit better on the margins, will we keep on obeying till we manage, or will we transgress right now ? We usually consider that we need to convince the majority first. We think that if we would resist, what ends up would be worse. But it is the responsability of the government and Capital that the solution is worse. THEY make it worse!
So, let's throw our vote, not only the small piece of paper but all our influence. A minority is powerless as long as it conforms to the majority. And, aside this, it is not anymore a minority but it becomes irresistible as it blockades everything. Victory will be for those who are able to make disorder without loving it. It remains to us to testify our deep will for autonomy everywhere and everytime we can, in the limits in which we are efficient. Not only assuring it on a personal level, not only raising a small protest against every violation of this principle, but also using all the means that are appropriate. Our participation to this act of resistance against the established order is our salute, we must take care of so fragile this freedom we are appropriating. We are all guilty to refuse their airport and the world that hides behind!
We resist in this present to the probable future because we bet on the potentialities of this present about resistance, we bet that it is still full of living practices although none of them escapes to the broad interference that implies everything. We show to all those who would like to make us go back in their military ranks or to the purgatory that our autonomous and partying lifestyles are much more fertile than their old decrepit world full of useless projects. This fascising world that is not able to give an answer to our desires but repression and calumny. We give them this fascinating show of a wild horde which build a accessible space for everyone, every class, every population, without any hierarchy and funds. We give to the world the show of our alternatives and solidarities to make ideas and desires grow. Those small weeds will survive and remain after we die and will end up effritating the bases of this reactionnary world...
We are not born to be possessed, to be submitted to orders, slaves or useful instruments of any lord of this world. We are born to walk on the head of the kings. Let's learn to walk alone ! We will break those who seeks to die with their dying world. To the reactionary forces that wants the History to go backwards, to all the submitted people, to all the skeptical, tradition supporters, mass apoligists, all the servile people who enjoy their life in the ruins of ministers, we oppose our determination : your airport won't be and your old world... WE WILL BREAK IT !
"To the wind that brings tempest, days of feast will be to harvest"
FLY
http://demo.ovh.net/fr/788909bfbfaf0f18e4faf3c3195d351e/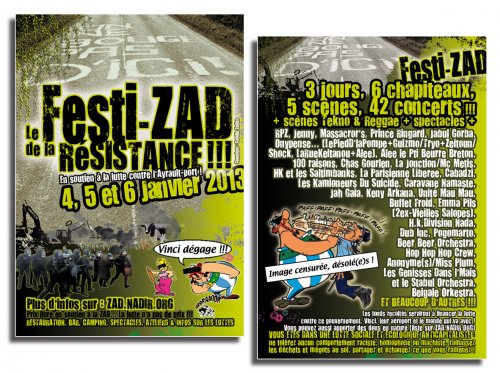 Concert scene (25kw under a heated marquee) :
100 raisons (punk)
Alee le Pti Beurre Breton (rap)
Anonyme(s) (rap)
Chas Gourlen (punk)
Beer Beer Orchestra (ska Punk)
Buffet Froid (chanson)
Cabadzi (hip-hop)
Caravane Namaste (chanson)
Division Nada (punk musette)
Dub Inc (reggae)
Emma Pils [2Ex-Les Vieilles Salopes] (punk)
H.k (soul)
HK et les Saltimbanks (rap)
Hop Hop Hop Crew (jazz manouche)
Jabul Gorba (balkan punk)
Jah Gaia (reggae)
Jeny (chanson)
Keny Arkana (rap)
La Parisienne Libérée (chanson)
La Jonction (rap)
Les Genisses Dans l'Mais et le Stabul Orchestra (chanson)
Les Kamioneurs Du Suicide (punk)
Massacror's (punk)
Mc Metis (hip-hop)
Miss Plum (rap)
On y pense... [Le Pied de la Pompe + Guizmo/Tryo + Zeitoun/LaRueKetanou + Alee] (chanson)
Pogomarto (punk)
Prince Ringard (punk)
RPZ (rap)
Shock (punk)
Unite Mau Mau (rap)
+ Tekno Sound System TNK & Friends (15kw) : Tekno, Acid, Trance, Breakbit, Dubstep, Drum, Tribe, Hardcore, Breakcore, Speedcore...
+ Reggae Sound System (20Kw) : Kürün Positive Bassline & Friends
+ Reggae Sound System (10kw) : Early-J Records, Ouragan Prod, Fieu Sound System & Zal-MC + guests
+ Scene accoustique et spectacles sous chapiteau (Beigale Orkestra, Koleweize, Battucadas...)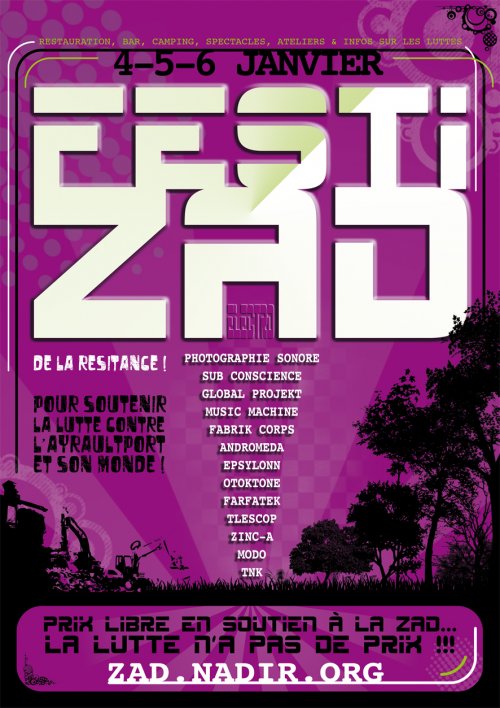 Don't forget you are in an anticapitalistic, social and environmentalist struggle : be autonomous, do not tolerate any racist, homophobic, machist or simply dominating and unrespectuous behaviour, do not leave any trash or mégot on the floor, share and give what you bring and above all act everywhere against Vinci and the Socialist Party !
More info on zad.nadir.org website.
This Zone of Partying Autonomy is born from individuals who freely associate, gathering with the principles that follow :
- radical opposition to capitalism and to mass culture schemes that are imposed by mainstream medias, fashions that tends to facilitate an habit of consumption which is the opposite of the principles of sharing and active participation. Presented cultures and, by extension, their spaces and ways of expression, must not risk any limitation. They are the expression of agency and possibility to create freely and in an autonomous way within our subnormed societies.
- clear reject of feodalism, imperalism, racism, sexism and all forms and systems of domination and discrimination. We admit the full dignity of each individual and advocate respect of the diversity of lifestyles.

Direct Partying Confrontation behaviour as we do not think that "lobbying" or "class collaboration" can have a massive impact on governments and institutions that are so demagogical and antidemocratical and for whom capitalizing and remaining in power are the only actual factors that determine their policies

a claim for Creative Direct Action and Partying Revolt bringing to the fore forms of resistance and solidarity that maximize respect of life and oppressed-individuals'-and-peoples' rights, and also the erection of local alternatives to world-wide capitalism.

A organizational philosophy based on Decentralizing and Self-Government.
Our aim is the immediate participation to a passionate abundance of life, through the modification of conscientiously perishable spaces and moments that are managed. The achievement of these moments can only stay in their temporary essence. We consider cultural activity from the point of view of the very totality, as an experimental construction of the daily life. It is to say : let's produce ourselves instead of producing things that submitted us. Our identity is Self-Government, the permanent mobilization of our force, dance and music the expression of our unswerving freedom .
To contact us : festizad@riseup.net
Posters in French : http://demo.ovh.net/fr/d19fc3ae3e2a4b85a91c864a0800a692/
Flyers in French : http://demo.ovh.net/fr/788909bfbfaf0f18e4faf3c3195d351e/